Breakout Books at the iBookstore UK and Ireland!
I've just gotten word that 'The Boy Who Sneaks In My Bedroom Window' has been selected by the merchandising team at Apple to be included in their Breakout Books promotion for UK and Ireland. I'm so thrilled to be included in this promotion again - especially since this time it's is in the UK so I can visit the iBookstore and see it in the promotion!!
I just want to take the time to send out a HUGE thanks to Apple and the iBookstore, for their continued support of independent authors. Their support of indies is unprecedented and gives promotion that money can't buy. It's fantastic that a giant like iBookstore is throwing their weight behind the little guys and giving us a chance to be seen alongside traditionally published authors!
I also wanted to send a massive thanks to the people who work at Smashwords, the site I use to publish my Ebooks. They fight every day for independent authors and actually have 40 of their authors included in this breakout books promo today! That's an incredible feat.
And lastly, thank you to YOU. You guys make all of this possible by buying the work of independent authors and allowing this feature to gain such incredible support.
If you want to read more about Breakout Books then this is the link to the Smashwords blog: http://blog.smashwords.com/2013/03/apple-ibookstores-in-uk-and-ireland.html
This is the link to The Boy Who… in the iBookstore, breakout books promotion. https://itunes.apple.com/gb/book/boy-who-sneaks-in-my-bedroom/id528976921?mt=11
One more thing… congratulations to the other authors included in this promotion – I'm sure you're as thrilled and honoured as I am!
Happy Tuesday, everyone!
Kirsty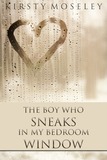 Categories: None